Video: Coltrane Ballads Featuring Mike Ruby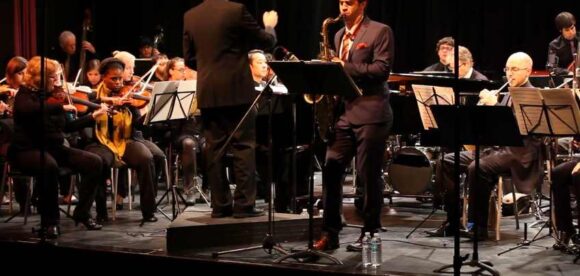 It's finally here! The video of the September 2013 performance of the Coltrane Ballads Project in Toronto featuring Mike Ruby, John Riley, Arlia de Ruiter, Victor Cheng, and myself is up on YouTube! Both the Danjam & Sneak Peek Orchestras played their butts off. I am very proud of this performance and I am pleased to be able to share it with all of you. Enjoy!
Program (click to jump):
00:36 – Say It (Over & Over Again)
08:04 – It's Easy to Remember
13:06 – You Don't Know What Love Is
23:02 – Nancy (With The Laughing Face)
28:50 – What's New
32:24 – I Wish I Knew
39:02 – All Or Nothing At All
49:15 – Too Young To Go Steady
57:03 – What's New (encore)
Danjam Orchestra & Sneak Peek Orchestra Present:
COLTRANE BALLADS
Monday September 30th, 2013
Al Green Theatre, Toronto
Mike Ruby: tenor sax
John Riley: drums
Arlia de Ruiter: violin
Victor Cheng: piano
Daniel Jamieson: conductor / arranger
Featured Media
Simple Calendar
There are no upcoming events.
Blog Archives
Blog via Email