Danjam Orch Plays Toronto – Sept 2015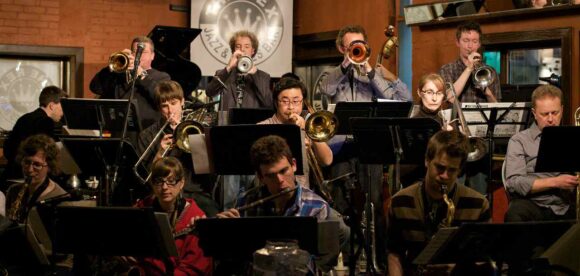 Come down to the Rex at the end of the month and join the Danjam Orchestra for 2 nights of music! We will be welcoming some new players to the band: Al Kay, Brian Dickinson, Matt Woroshyl, Cade Calder, and James Rhodes. Highlights will include: Brian Dickinson on Phantasm, Al Kay, Matt Woroshyl, and Jeff King on Wabash, and and finally Harley Card on a brand new arrangement of mine. You will have to come down to find out what it is!
Dates: Tuesday September 29th '15,
& Wednesday September 30th '15
Time: 9:30pm both nights
Location: The Rex Hotel (Toronto)
Facebook Event: Link
MUSICIANS
Reeds: Nick Morgan, Matt Woroshyl, Jeff King,
Dave Neill, Shirantha Beddage
Trumpets: Cade Calder, James Rhodes, Mike Malone, Alex Brown
Trombones: Al Kay, Paul Tarussov, Heather Segger, Pete Hysen
Guitar: Harley Card, Piano: Brian Dickinson
Bass: Justin Gray, Drums: Ethan Ardelli
Featured Media
Quote
The soloists that Jamieson has assembled are all ace musicians… If SUDDEN APPEARANCE is of any indication, it looks like the Orchestra and Jamieson are in it for the long haul.

PopMatters.com
Simple Calendar
There are no upcoming events.
Blog Archives
Blog via Email