2013: Looking Back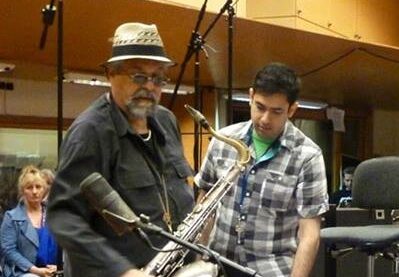 Many exciting things have happened over the past year in the world of Danjam, so I wanted to take a moment and reflect on some of the highlights as I have been too busy to write regular blog updates.
The most noteworthy endeavour of all was my Coltrane Ballads Project. For those of you who haven't heard about it yet, I arranged all the music from John Coltrane's Ballads CD for big band + orchestra. It took me about a year to prepare all the music and it was performed for the first time by the Metropole Orchestra in Amsterdam this past May. I conducted the concert – my first time conducting the Metropole – and it featured the endlessly musical Joe Lovano on tenor saxophone. What a great orchestra – I cannot say enough good things about that band! John Riley traveled from New York to play drums for the week. I love working with John because not only does he play his parts 'correctly' so to speak, but each take is equally different, creative and fresh. We had 2 days to rehearse, followed by a day of recording, and on the final evening we performed to a sold-out concert hall in downtown Amsterdam. It was a real treat to be able to perform the music acoustically – no microphones in the orchestra! Here are some photos from that week:
I am very proud of the work we did that week. It was such a great feeling hearing my music come to life, especially after working on it for so long.
As soon as I got back to New York, I moved to a new apartment (and built myself a new bed – yippee!), and quickly started work on 13 new arrangements for Jeremy Davis' Equinox Orchestra & the Savannah Philharmonic. I spent most of the summer (more…)
Featured Media
Simple Calendar
There are no upcoming events.
Blog Archives
Blog via Email