Danjam Orch @ The Rex – Aug 2017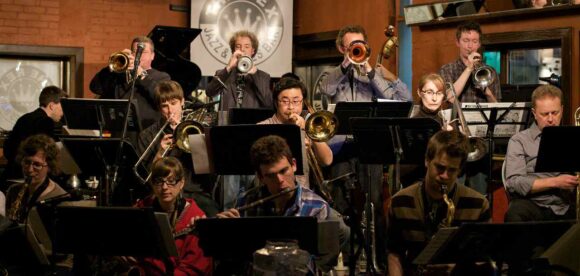 It has been almost two years since my big band has performed live as my life has undergone a few major changes – including joining The U.S. Army Field Band as a Staff Arranger and moving to Washington, DC! Now that things have more or less settled, I am proud to announce that one week from now the Danjam Orchestra will be back at The Rex for two nights of live music. We will be tackling 3 brand new arrangements including an original composition by Jason Logue. Please come out and support these amazing musicians!
Woodwinds: Nick Morgan, Tara Davidson,
Jeff King, Dave Neill, Alex Dean
Trumpets: Jason Logue, Andrew McAnsh,
Alex Brown, Mike Malone
Trombones: Scott Ninmer, Paul Tarussov,
Gord Myers, Pete Hysen
Guitar: Harley Card, Piano: Florian Hoefner
Bass: Justin Gray, Drums: Ethan Ardelli
Dates: Monday August 14th 2017 & Tuesday August 15th 2017
Time: 9:30pm both nights
Address: 194 Queen St W, Toronto
Featured Media
Quote
…band is brass and reed heavy, but he leavens their clout on three of his eight pieces with the airy vocalese of Jihye Kim, and his own tuneful solo take on Charlie Chaplin's Smile…

Downbeat Magazine
Simple Calendar
There are no upcoming events.
Blog Archives
Blog via Email