Danjam Orch @ The Rex – Aug 2017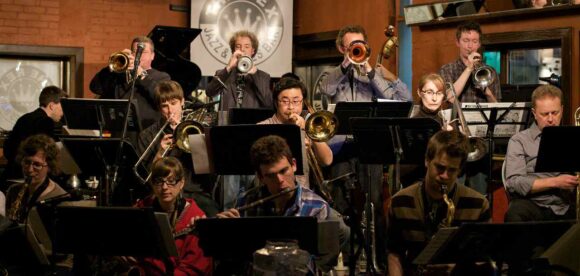 It has been almost two years since my big band has performed live as my life has undergone a few major changes – including joining The U.S. Army Field Band as a Staff Arranger and moving to Washington, DC! Now that things have more or less settled, I am proud to announce that one week from now the Danjam Orchestra will be back at The Rex for two nights of live music. We will be tackling 3 brand new arrangements including an original composition by Jason Logue. Please come out and support these amazing musicians!
Woodwinds: Nick Morgan, Tara Davidson,
Jeff King, Dave Neill, Alex Dean
Trumpets: Jason Logue, Andrew McAnsh,
Alex Brown, Mike Malone
Trombones: Scott Ninmer, Paul Tarussov,
Gord Myers, Pete Hysen
Guitar: Harley Card, Piano: Florian Hoefner
Bass: Justin Gray, Drums: Ethan Ardelli
Dates: Monday August 14th 2017 & Tuesday August 15th 2017
Time: 9:30pm both nights
Address: 194 Queen St W, Toronto
Featured Media
Quote
…embedded in Jamieson's work is a unique style of layering and pairing of instruments that changes the way one hears a big band.

All About Jazz / Jazz Times
Simple Calendar
There are no upcoming events.
Blog Archives
Blog via Email