About & Contact
New York-based musician Daniel Jamieson grew up in Toronto, Canada. He currently works as a free-lance composer, conductor, woodwind specialist, and educator. Daniel's commissions span a variety of styles including jazz, pop, and musical theatre. He leads a 10 piece jazz ensemble, the Daniel Jamieson Tentet and his own big band, the Danjam Orchestra. Daniel's acclaimed 2011 debut release, Sudden Appearance, places him at the forefront of the current crop of young big band leaders. The project was produced by Jim McNeely and featured John Riley on drums. Since then, Daniel has attained international recognition for his work as a composer, arranger and conductor. He has collaborated with Joe Lovano, Joshua Redman, Kurt Elling, Marcus Miller, Ingrid Jensen, Christian Scott, Anthony Hamilton, Vince Mendoza, the Toronto Symphony Orchestra, the Savannah Philharmonic Orchestra, the WDR Big Band and the Metropole Orchestra.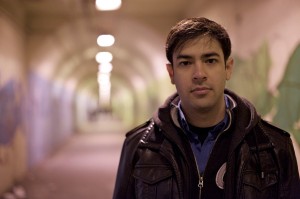 Daniel has contributed arrangements to 7 Metropole Orchestra jazz and pop projects, and has conducted concerts, radio broadcasts, recordings, and television broadcasts with this ensemble. His arrangements have been performed at notable events such as the North Sea Jazz Festival and the Edison Awards. In 2012, Daniel was the musical director of the Coltrane Ballads Project with this 52 piece orchestra. Daniel was responsible for creating the overall artistic concept, arranging the tunes from the original John Coltrane CD Ballads, conducting a live concert, and conducting a studio recording session. This project featured saxophonist Joe Lovano and drummer John Riley.
In 2011, Daniel received a Latin Grammy nomination for Bobby Sanabria's Tito Puente Masterworks Live, which features Daniel on lead alto. Specializing in saxophones, clarinets, & flutes, Daniel has extensive pit-work including the Broadway production of Chicago and the national tour of A Christmas Story. Other credits include: The Music Man, Chicago, How to Succeed in Business, Ragtime, Song Man Dance Man, Urinetown, and Scrooge in Concert. Daniel has worked with Broadway stars such as Jake Epstein, Alison Fraser, Harriet Harris, Richard Kind, and Tony Yazbeck. He has collaborated with Emmy-winning producer Jeffrey Lesser and Tony-winning orchestrator Larry Hochman.
Daniel has delivered masterclasses at Manhattan School of Music, University of Toronto, Humber College, and University of North Texas at the graduate, undergraduate, and pre-college levels. He has also worked as guest conductor with the Humber College and the University of Toronto big bands. Daniel currently substitute teaches Jim McNeely's graduate level studio orchestra class and arranging class at Manhattan School of Music. Daniel holds the title of Education Programs Manager at Spectrum Music, which offers an intensive composition workshop at the high school and undergraduate level; participants receive individual instruction from Daniel, along with collaborative peer feedback. One outstanding candidate is awarded private lessons with Daniel and is commissioned to compose a new work. In addition, Daniel has served as Executive Director of New York City's Cutting Edge Concerts New Music Festival since 2015; a month-long series in April featuring the music of living classical, and jazz composers.
Daniel attended the Claude Watson Arts Program at Earl Haig Secondary School and participated in the Humber College Community Music School Program. He holds a Bachelor of Music degree in Jazz Performance from the University of Toronto where he studied with Alex Dean & Tim Ries, as well as a Master of Music degree in Jazz Composition from the Manhattan School of Music where he studied with Dave Liebman & Jim McNeely.
PRESS KIT
Click here to download bio & headshots!
REVIEWS
Click here!
INQUIRIES
You will receive a response within 24 hours.