Danjam Orch @TheRex 2 Nights! Aug 2019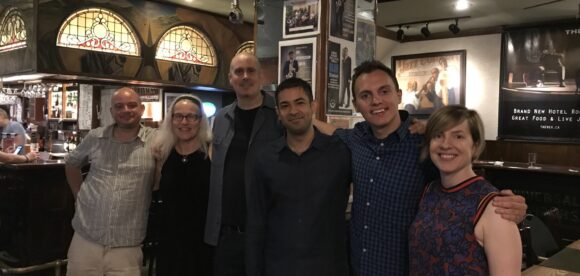 The Danjam Orchestra will be performing 2 nights of live music at The Rex in Toronto. We will be presenting an eclectic program made up of new music, as well as Danjam Orchestra classics turned upside-down to feature different instruments in the band. I'll be traveling from DC for the occasion, and our friend John Riley will be joining the band from NYC on drums. We are also thrilled to have Russ Macklem, Adrean Farrugia, and Lauren Falls performing with us for the very first time! Come have a drink, relax, and enjoy these fantastic musicians.
COMPOSER / CONDUCTOR: Daniel Jamieson
WOODWINDS: Nick Morgan, Matt Woroshyl,
Jeff King, Dave Neill, Colleen Allen
TRUMPETS: Alex Kundakcioglu, Alexander Brown,
Russ Macklem, Mike Malone
TROMBONES: William Carn, Paul Tarussov,
Karl Silveira, Peter Hysen
GUITAR: Harley Card, PIANO: Adrean Farrugia
BASS: Lauren Falls, DRUMS: John Riley
Dates: Monday August 12th 2019 & Tuesday August 13th 2019
Time: 9:30pm both nights
Location: The Rex Hotel
Address: 194 Queen St W, Toronto
Facebook Event: Link
Featured Media
Quote
…band is brass and reed heavy, but he leavens their clout on three of his eight pieces with the airy vocalese of Jihye Kim, and his own tuneful solo take on Charlie Chaplin's Smile…

Downbeat Magazine
Simple Calendar
There are no upcoming events.
Blog Archives
Blog via Email